MICRONEEDLING IN MAPLE WALLEY, WA
At MD Coté Medical Spa, we offer microneedling to help treat acne scarring, surgical scars, stretch marks, and more. Using the latest techniques and equipment, we can help enhance the appearance of your skin and improve your self-confidence!
READ WHAT OUR PATIENTS HAVE TO SAY!
"Dr. Cote is an artist. She is very talented and has an amazing gift when it comes to esthetics. Both her and her staff are professional but they make you feel comfortable at the same time. I highly recommend Dr. Cote."

Kathryn I.
WHAT IS MICRONEEDLING?
Microneedling, also known as collagen induction therapy, is a minimally invasive treatment to rejuvenate the skin.
MICRONEEDLING WITH THE MICROPEN ELITE
The MicroPen® Elite is an innovation in aesthetics for the treatment of the appearance of fine lines, acne scars and the skin's texture, tone and color. This type of microneedling offers reduction in the appearance of fine lines, wrinkles, improved skin tone and texture and softer, younger-looking skin with fewer signs of aging. MicroPen Elite can help improve the appearance of hyper-pigmentation as well as uneven skin tone, acne scars, traumatic scars and stretch marks.
WHAT ARE THE BENEFITS OF MICRONEEDLING WITH MICROPEN?
The benefits of microneedling can include a reduction in the appearance of fine lines and wrinkles, younger-looking skin with fewer signs of aging. The MicroPen can also have a positive effect on the appearance of hyperpigmentation, dark spots, acne scars and stretch marks and create a fresher appearance or glow to the skin. It is a safe alternative to common skin resurfacing tools, such as lasers and dermal rollers. It is also affordable, effective, requires minimal down time and provides natural-looking results.
WHAT AREAS CAN BE TREATED WITH MICRONEEDLING?
Eclipse MicroPen can be used on all parts of the body, including the face, neck, décolléte, arms, hands, legs, abdomen and back.
MICRONEEDLING PROCEDURE
A sterile applicator tip containing 12 points is attached to the Eclipse MicroPen. MD Coté Medical Spa will apply a thin layer of solution to your skin and select the appropriate pen setting based on your unique needs. Next, in a single motion, the pen will be gently pressed against the skin while simultaneously gliding in one direction until the entire treatment area has been covered.
HOW MANY MICROPEN TREATMENTS ARE NEEDED FOR BEST RESULTS?
Some patients only require a single treatment once a year to achieve optimal results. However, it is recommended for most patients to receive a series of two to three treatments spaced about six to eight weeks apart. For patients with concerns about deep wrinkles, advanced photoaging, stretch marks or acne scars, it is recommended to receive six to eight sessions at six-week intervals. Our master aestheticians will meet with you and develop a plan based on your unique needs.
BEFORE AND AFTER MICRONEEDLING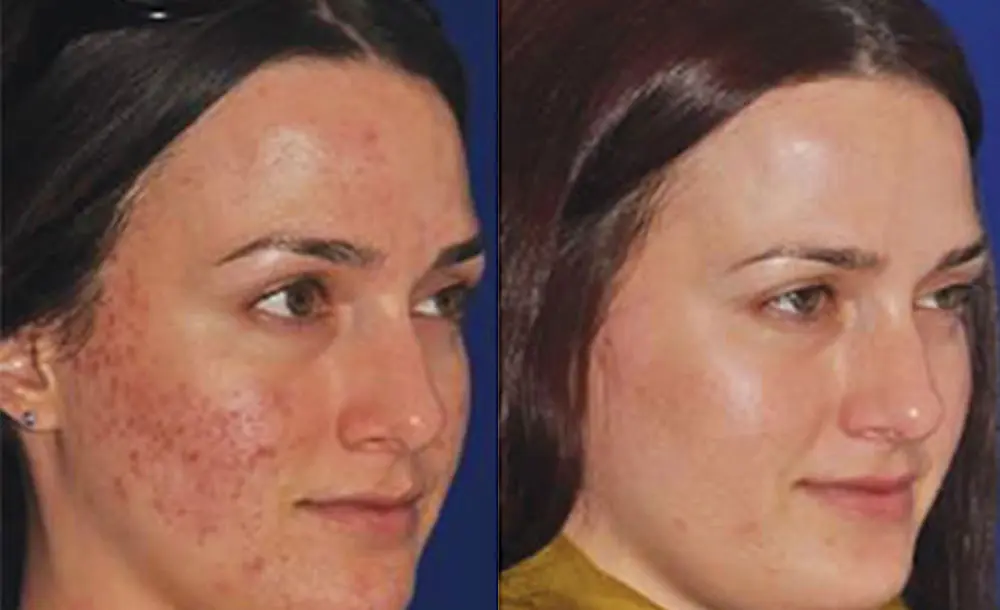 To learn more about Microneedling or our other professional services, schedule a consultation at MD Coté Medical Spa. We serve Maple Valley, WA and the surrounding areas.